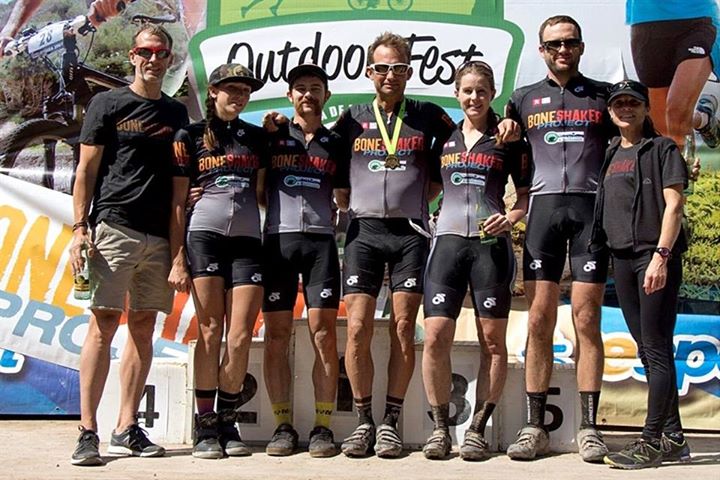 Friday, October 23 2015
There we were, driving to San Antonio late morning in the pouring rain to catch a flight to Monterrey, MX. I committed to race on a mixed team representing the Boneshaker Project (a local ATX non-profit org started by Todd Reed, to inspire kids and families to lead healthy, active lifestyles.www.boneshaker.org) I have been coaching kids for Boneshaker now for 3 years and was very excited for the opportunity to be a part of this team to spread our mission across the border!
Our team of 7 consisted of 2 trail runners: Todd Reed & myself along with 5 mountain bikers: Will Ross, Josh deBoisblanc, Amy Parkinson, Tristan Uhl and Sammie Runnels. We were headed to race in the 2nd Picachos Adventure Outdoor Fest in Higueras, MX. The 2 day event consisted of off road duathlon races on Saturday and trail and mountain bike races on Sunday. We all met at the SA airport Friday excited and looking forward to this adventure. Especially being we were getting ready to fly into the most intense category 5 hurricane ever recorded in the western hemisphere, that would hit the western coast of MX Friday evening…hello Hurricane Patricia!!
We all made it to Monterrey without hitch, the 5 mountain bikes and all. To greet us was Alfonso Barragan (the man responsible for us coming to race), Gabriel (a local mountain biker) and Gabby (the daughter of the race director). We soon were on our way to this very tiny town of Higueras about 40 mins NE of the airport. There we'd make our home-base being the course/event was being held on the Sierra Picachos Reserve just outside of town.
Our host, Alfonso Barragan, who owns over 5,000 acres in this area donated over 600, as a ecological movement to prohibit the destruction of the Sierra Picachos mountains to establish a rock quarry. (if interested in learning more about this magnificent area, please feel free @: www.aespac.org.) As we drove into Higueras, it was as if we were driving back into time. We were shown our very sparse accommodations, and we all settled in and embraced our new home for the next 4 days.
The wonderful hospitality, warm friendly faces and amazing meals all provided for us by people who work on the Sierra Picachos reserve, made up for whatever was 'missing' by our American standards. Alfonso, Gabriel, Gabby, and several other VIP's from Monterrey who were out to meet Alfonso to learn more about the reserve, all joined us for dinner Friday night. Quite the fresh delish welcoming Mexican feast!! Of course the big talk for everyone was the continuous monitoring of Hurricane Patricia. Things weren't looking great prior to bed Friday night. Though I knew for my over 20+ years of racing…anything can happen with the weather, you just have to see what race day brings!!
Saturday, October 24 2015

As we awoke Saturday morning to muggy, drizzling conditions, we all were curious how the landfall of Patricia affected the western MX coast and what was en store for us? Our plan for the day was to check out the course and then be driven into Monterrey to see and explore the local sights. With the rain increasing with every 30 mins after we awoke, we were limited to getting on the course. Todd and I ran around the town of Higueras and the mnt bikers head out to see what was ride-able. They found lots-o-mud and called it early so we could head into Monterrey. Due to all the intense rain, the race director did end up canceling all the duathlon races scheduled for Saturday. So we weren't sure what would be en store for us Sunday, other than it could be EPIC!
After arriving in Monterrey and a lovely lunch, we attempted to venture to the old center of the city to see some sights despite the winds and sheets of rain falling down. We walked the plaza which goes for miles with local shops and restaurants and noticed the skies clearing and the rain slowing. Our guide Gabriel and driver Roberto(a vet who works on the reserve) mentioned a drive up to Chipinque(a beautiful park that's on a mnt that overlooks Monterrey). Locals use this park for biking, hiking, kids playscapes and social events. There's a hotel and restaurants on top and are packed on any given weekend. The views from Chipinque are spectacular!! This is where we had dinner Saturday night.
Sunday, October 24 2015
Race morning we all are up and moving about and of course our first concern was…weather. Over night the temp dropped and the winds picked up and the rain stopped. We all were happy to see the clouds slowly starting to break and the possibility of seeing the sun. As we all gathered our race day necessities; Todd and I our shoes/little backpacks and the rest with their bikes and copious amount of gear, off we went wondering where exactly the event start was and to what condition would the race course(s) would be in?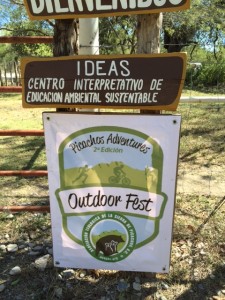 The trail races where off at 7:45am and the bike races off at 8:30. Traveling all over the world to race, it's funny…it doesn't matter where you are once you arrive at any race site, it's all familiar, similar and very comfortable. With the wind blowing hard, we all were challenged with some intense stretches of a nasty headwind at some point in our races. Outside of a few standing puddles, our expectation of EPIC, did not deliver and Patricia fizzled her fierceness and blew the course dry. We all had a great day out there, raced to our abilities and agreed the terrain not very technical, though challenging in it's own way. Interesting, at some point in our races, we all did get a glimpse of the beauty of the land to where we were racing. Some of which, even took a few pics on the bike course!
Team Boneshaker represented well on that Sunday.
Trail Races: 5k – Todd 1st OA, 10K – Cassandra 1st OA
Mountain Bike Race 49 miles:
Women Elite: Sammie 1st , Amy 2nd (they battled it out at the finish line!)
Men Elite: Tristan 1st, Josh 4th , Will 5th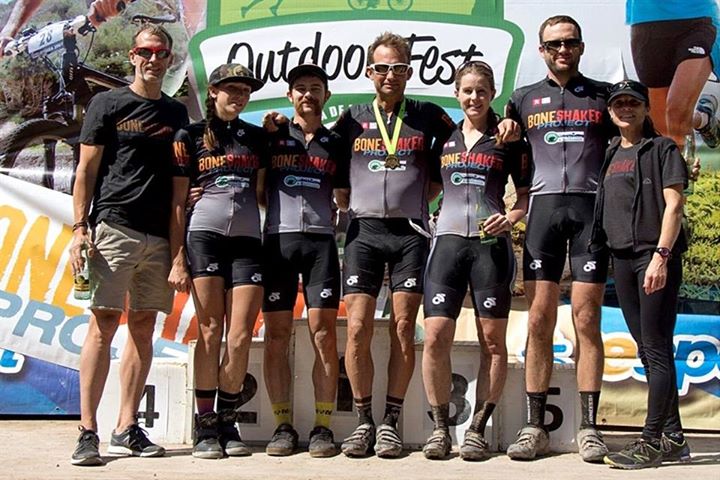 Post race, we all cleaned up and Alfonso and his wife, Conse, met us at our haciendas in Higueras. They were most gracious and invited us to their home in San Pedro, Monterrey then to dinner in town. On our drive back into Monterrey, we had a great athlete debriefing of race day, rehashing our experiences, our highs and lows…a norm for post race for athletes. Arriving to Alfonso's home, which was an architectural wonderment, we were treated to some vino, vitals and had time to hear and learn more about his work/vision with the reserve at Sierra Picachos and the town of Higueras. We as athletes loved the area and shared what an amazing place it would be as a training destination for anyone from ATX. It seems like the vision is to make Higueras and this area of the Sierra Picachos more accessible for athletes, artists and tourists alike that are interested in the beauty, serenity and quaintness of this land as well as preserving it. I am very grateful to have had this amazing opportunity and hopefully will be back to see where the potential and vision of preservation that Alfonso Barragan is working so very hard for in this area of MX.
Monday was a little sleep in, yet another amazing breakfast, and of course a totally beautiful ideal weather day, then…off to the airport, back to the ATX. We were sent off with many hand shakes, hugs and sharing of contact info in hopes of tending to these new found relationships. A truly wonderful trip! Meeting new friends, sharing common interests, spreading the mission of the Boneshaker Project, in turn learning about a new land, the Sierra Picachos, that we can share to others to save and preserve and a possible new destination in Higueras to visit.