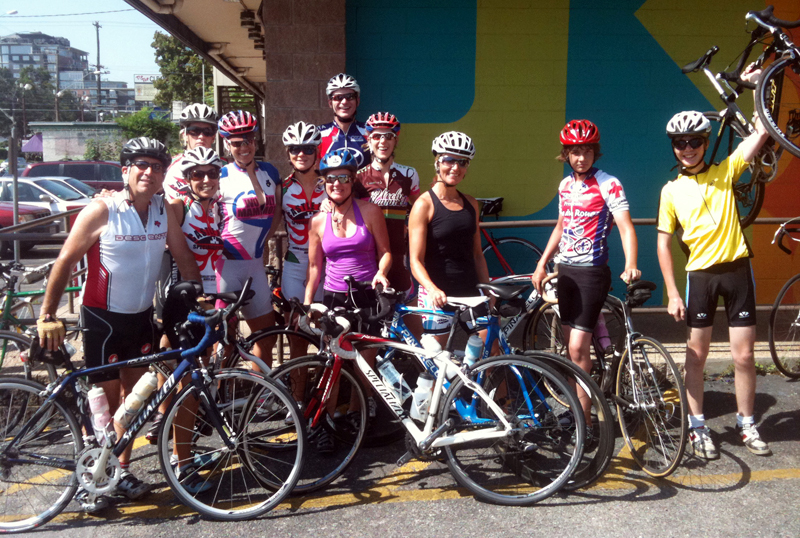 Join us for weekly Sunday road rides during the month of April.
Dates: April 7th, 14th, 21st, 28th
Meet in front of Food for Fitness Café at 8:30am. Take off at 9am. No-Drop ride* of 20-30 miles. Route to be announced the week of the ride.
* A No-Drop Ride means that cyclists of all levels of experience will stick together on the ride with an average pace of 12-15 MPH. In the event a cyclist can not stay with the group due to bodily or bike maintenance issues, a ride leader will stay and assist the cyclist and let the others continue to ride.
Safety Checklist:
Please show up with the appropriate safety gear:  Helmet is mandatory, gloves are recommended, headphones are not allowed.  Riders should have their ID, money/credit card, and cell phone for an emergency or possible convenience store stop.  Lights are a good idea, but not mandatory.
Make sure your bike is in good working order:  tires are in good condition and aired up to the correct air pressure, chain is lubricated, cables move freely and are secured appropriately, brakes and derailleurs function properly, handlebar/stem/saddle are adjusted properly.
Be fueled-up and ready to go:  have two water bottles filled to stay hydrated, bring some extra energy gels or bars for fuel during the ride.  On longer rides, expect a stop at a pre-determined convenience store.
Dress appropriately:  check the weather and bring a jacket or arm warmers if it is cold in the morning.  It will probably warm up as the day progresses, so removable layers are a good idea.
Be aware of your surroundings:  watch for vehicular traffic, obey all traffic laws, call out any road hazards/debris for riders behind you, use hand signals to show slowing/left/right, keep a safe distance from the riders around you
Have Fun!