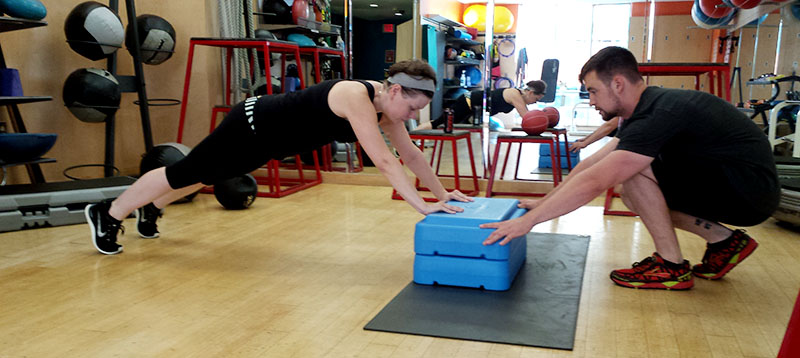 How long have you been a member at Castle Hill?
I have been a member at Castle Hill since January 2011, when I first joined the gym on my very first visit. What attracted me initially is that the gym space was beautifully designed and very clean. What made me stay is the incredible environment and the Castle Hillers.
What does your regular routine at Castle Hill look like?
These days my exercises at Castle Hill are mostly powered by Hilary Chung: Tuesdays – Bella Boot Camp or Target Toning and Circuit Training in the evening Wednesdays – Target Toning Thursdays – Bella Boot Camp and Cycle Barre Saturdays – Target Toning and Circuit Training
What changes have you made in your health and fitness lifestyle since becoming a member of castle Hill?
Finding and keeping a regular gym routine instead of just exercising her and there. It took me a long time to find it until I joined Castle Hill. Discovering the power of endorphins to kick start your week 🙂
Do you take any of our classes?
Yes, I really love the strength and cardio classes that I have been doing. I try to supplement those with spin, yoga and Pilates classes as well. I will continue exploring different classes since there are so many excellent ones and there are many that I am curious to try.
Who is your favorite instructor?
Hilary Chung is my favorite instructor. She combines her experiences in athletics and in exercise to develop classes that are well-rounded physically and fun mentally. My favorite class combo is on Saturday mornings. The first hour is Target Toning, total-body style training, followed by an hour of circuit-style training. It is a beautiful way to start the weekend. Other rad instructors who are super talented and whose classes I have attended are: Amid Archibald, Carol Martins, Jessica Wurtzebach, and Amy Rogers. I also enjoyed Adam's Back to Basics and Montserrat's Zumba when they were teaching.
Do you currently work with a personal trainer?
I am starting to train with Justin McCabe, and I already have a nickname to this workout — "TGIF" — it is transforming my Friday's gym routine and takes it to a whole new level. The focus is on core and overall strength. This is new a pretty exciting!
What motivates you to stay on track?
CHF's beautiful, expert staff and fellow gym mates. Definitely the staff at Castle Hill, first, and also the results and accomplishing goals, second.
What have been the biggest obstacles with fitness?
I've got to work on my self-motivation and self-discipline with fitness, as well as clean eating.
What aspect are you most proud of?
Being up at 5am and ready to do a boot camp is what I'm especially proud of. Credit goes to Hilary because it was her who made me realize that I can do it!
What's your greatest health + fitness achievement?
In 2011 I gained 5 lbs 🙂 Kidding aside, in 2012, I shed about 25 lbs. In 2013 I shed another 25 lbs.
Are there areas you are still working on?
Absolutely. I want to increase my fitness and gain better muscle tone. I've been wanting to learn and add weight training to my routine. Also, I'd like to get better at running.
When you are not working out at Castle Hill, what do you do?
Things I do: I am an imaging scientist working in the field of nanotechnology doing optical proximity correcting modeling. Things I like: sci-fi, Star Trek, all things optics, statistics, coffee, architecture and design.
Any thoughts you can leave us with?
My short list of things at Caste Hill that I especially like: fitness formats, all things media, amenities, Food for Fitness Cafe, and last but not least, the whole Castle Hill Fitness team is unreal!