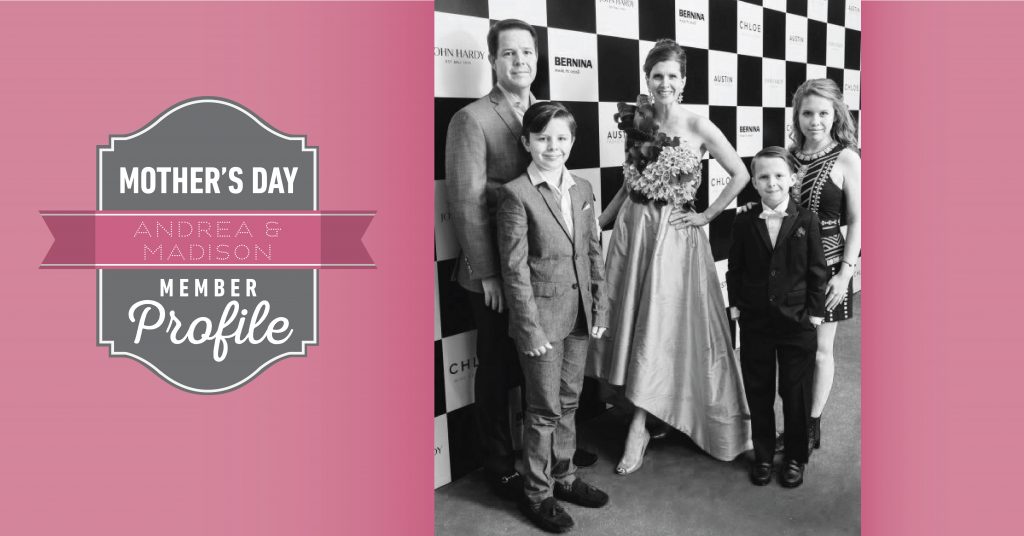 We love our Mom Members! • In honor of Mother's Day, we're spotlighting this Mother/Daughter duo, longtime members of our Castle Hill Fitness family. In spite of a busy week of travel, they were able to share this bit of themselves with us.
ANDREA:
What's the best Mother's Day gift you've gotten?
The best gift is simply quiet time with my children, always.
What's your favorite thing about being a mom?
Discovering how amazingly different and special each child is and clearing their path to help all of their dreams come true.
What are your plans for this Mother's Day?
Definitely brunch at the Four Seasons and then a lazy day with the kids at our boathouse on Lake Austin.
MADISON:
What's the best Mother's Day gift you've given to your mom?
A pair of black Chanel earrings that I bought for her with money I earned from my first big performance.
What's your favorite thing about your mom?
She always supports and encourages me in my endeavors
What are your plans for this Mother's Day?
I am finishing up a starring role in a musical this weekend which is as stressful for her as it is me so I think we are both looking forward to getting some rest! • • • •
How long have you been in Austin and where were you before?
ANDREA: I am a native Austinite from a hard working family.  In the early 1970s, I lived above my family's burger joint on Congress Avenue. My parents were saving to buy a house so my sister and I lived on the 2nd floor above the restaurant. My backyard was the Capitol grounds as it was the closest green space. Also, the now famous Austin bats lived on the 3rd story of our building and were NOT a tourist attraction back then! MADISON: Proudly, I was born here!
Austin is known as the Live Music Capital of the World, what's the best live music show you have ever seen?
ANDREA: Of course, Madison's live performance with her back up dancers at Austin Fashion Week! MADISON: Celine Dion in Las Vegas
What food would you eat 5x a day if you could?
ANDREA: Taco deli queso! MADISON: Brussel sprouts from Uchi
What's your favorite thing about Castle Hill Fitness?
ANDREA: I love the down to earth people that are there to workout and just have a good time. And, of course, I adore my personal trainer, Amid! MADISON: Definitely, the people! Thank you, both, and Happy Mother's Day, Andrea!