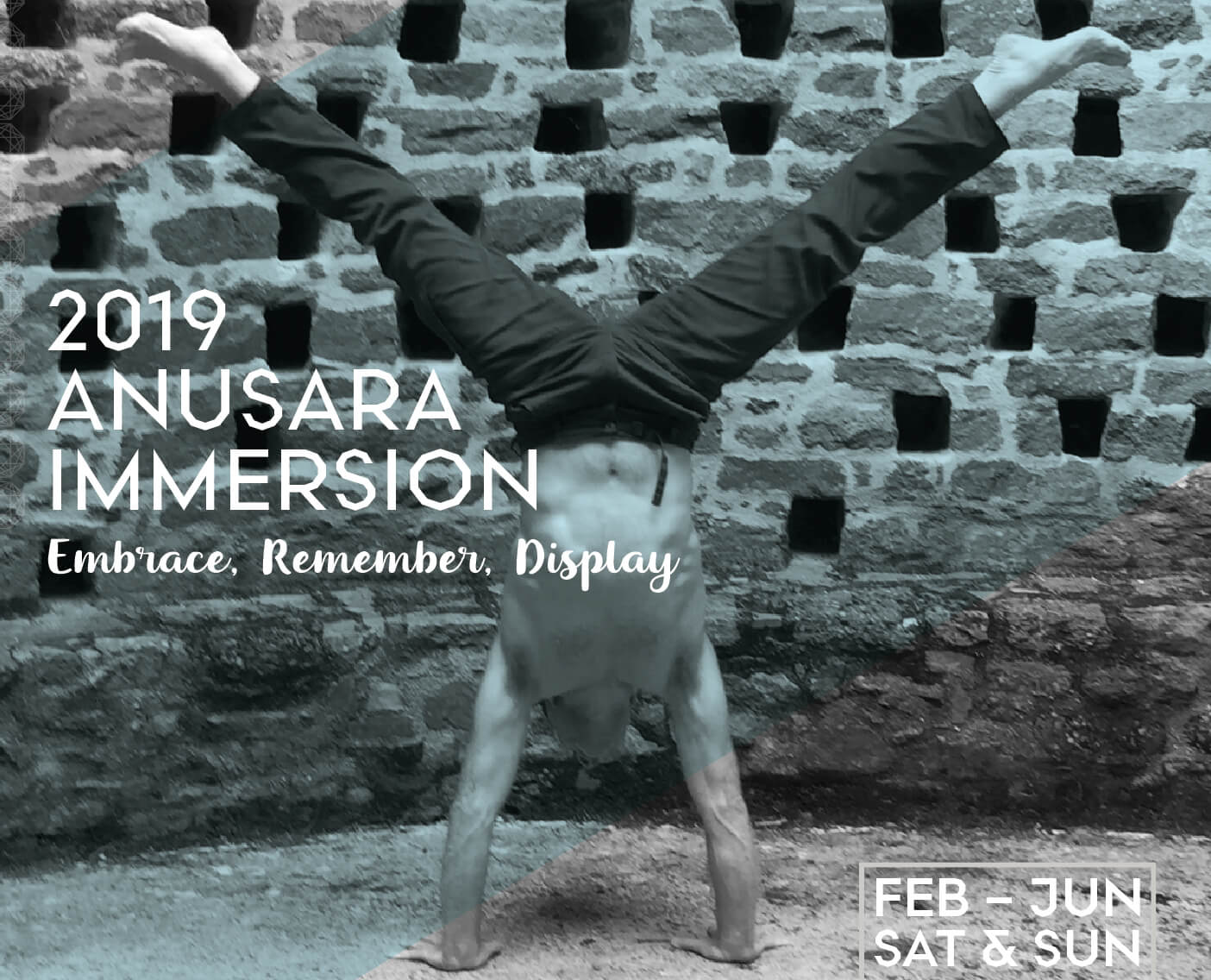 WITH Charly Pivert
Saturdays at 12pm, Sundays at 8:30am
REMEMBER, EMBRACE, DISPLAY
2019 Anusara Yoga Immersion

The Immersion is open to students of all styles, teachers and aspiring teachers who wish to deepen their understanding and practice of Yoga. Completion of a 100hr Immersion is a prerequisite that prepares students for the Anusara Yoga teacher training. Graduates of the Immersion and teacher training will be able to register through Yoga alliance at the 200 RYT level.
In this Immersion you will learn and practice the fundamentals of Anusara Yoga methodology and its life affirming philosophy. Each day includes a transformative asana, pranayama and meditation practice, lecture, Q&A and group discussion. Through the study of key yogic text, you will explore the different philosophical currents of Yoga and their teaching's application to daily practice and life. Other topics covered during the Immersion includes the history of Yoga, the anatomy of movement and therapeutic Yoga.
The Immersion is a broad and comprehensive study of Yoga that is accessible to students of all levels.
Immersion Dates for 2019
Weekend 1: February 23-24
Weekend 2: March 2-3
Weekend 3: March 30-31
Weekend 4: April 20-21
Weekend 5: May 4-5
Weekend 6: May 18-19
Weekend 7: June 8-9
SATURDAYS 12-6pm
SUNDAYS 8:30am-5pm
in the Studio
PAYMENTS
$1675 prepaid before February 9, 2019. Includes $300 non-refundable deposit.
$1800 for payment plan: include $300 non-refundable deposit and 6 payments of $250. Valid credit card required. Paid in full by June 7th.
To enroll in a payment plan - email deb.peterson@gmail.com

Refunds: We will give a refund minus the non-refundable deposit for cancellations 2 weeks or more in advance. No refunds will be given for no shows or 7 days before start date. Castle Hill Fitness reserves the right to cancel programs at anytime to which we offer full refunds. Attendance: 100% is required with no make up dates.
About Charly Pivert
A Certified Anusara® Yoga Instructor with over 25 years of teaching experience, Charly brings a deep understanding of how the physical practice of Yoga can connect to one's heart and have the power to transform lives.