If you have a health and fitness goal put metrics to it to increase your success rate. Castle Hill Fitness 360 offers two types of fitness assessment tests to help you achieve your health and fitness goals – the BodyGem Metabolic Test and the InBody Composition Test. The Metabolic test and InBody Composition test are both non-invasive, quick and open to members and non-member alike at Castle Hill Fitness 360.
Additionally, at our downtown location, we offer a Bod Pod Body Composition test and a movement based initial assessment.
METABOLIC TESTING
ACHIEVE YOUR WEIGHT MANAGEMENT GOALS
Your metabolism determines the amount of food and exercise you need in order to reach your goal weight. It is unique to you and influenced by many factors including weight, age, hormone levels, and gender. The RMR test is non-invasive and taken during a resting state. Regular testing of your metabolism will help define your baseline needs, help you to avoid plateaus, and ultimately keep your program on track.
WHAT TO EXPECT FROM A METABOLIC TEST
Our RMR test uses the BodyGem indirect calorimeter to determine an accurate metabolic fingerprint. You will receive a personal profile that includes a detailed report with caloric ranges, body fat, BMR and a sample nutrition plan with macro & micronutrient recommendations.
HOW TO PREPARE FOR A METABOLIC TEST
In order to obtain an accurate RMR measurement, clients need to be in a baseline state. At the time of your appointment, you must NOT have:
Eaten for at least 4 hours (water is OK)
Exercised for at least 4 hours
Consumed caffeine for at least 4 hours.
Consumed nutritional supplements or medications containing ephedra, Ma Huang, or pseudoephedrine for at least 4 hours.
Used any form of nicotine for at least 1 hour
| | | |
| --- | --- | --- |
| Resting Metabolic Rate Testing | Members | Non-members |
| One test | $125 | $135 |
We observe a 24-hour cancellation policy on all personal services. You can cancel your appointment online up to 24 hours in advance. Late cancellation fees are equal to the booked service.
INBODY COMPOSITION TESTING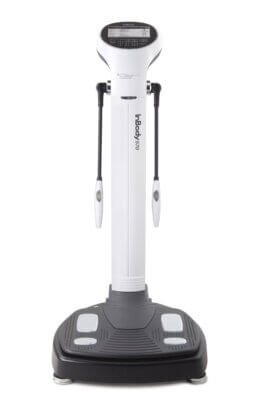 NOT ALL POUNDS ARE EQUAL
When you step on a scale and see that you've lost 2 pounds, what did you really lose? 2 pounds of fat? Muscle? Water? Change the way you see your weight. Understand your health by seeing how much muscle, fat, and water you have instead of relying on a number on a scale. Body composition testing is the future!
Go beyond the scale with the InBody Test, a non-invasive body composition analysis that provides a detailed breakdown of your weight in terms of muscle, fat, and water on an InBody Result Sheet.
INBODY TESTING IS QUICK
In just 45 seconds the InBody will reveal how your diet and exercise are affecting your health. Through regularly scheduled testing you can challenge yourself and monitor your progress on your full-page results sheet – available immediately following each test.
PRECISE AND INFORMATIVE RESULTS
No more pinching. No more dunking. Get results you can trust so you can reach your health and fitness goals with precision and actionable objectives. InBody uses the latest patented and cutting-edge technology to provide you with the most accurate results. Receive a personalized report that informs you of your overall health including body fat percentage, amount of lean muscle tissue, visceral fat (fat in and around your organs) and more. See more studies and research documents. 
We recommend getting a quarterly InBody Composition test to track your progress. 
ADDITIONAL MEASUREMENTS FROM THE INBODY TEST INCLUDE:
SEGMENTAL FAT AND LEAN MASS ANALYSIS – Identify how many pounds of lean mass are in each body segment (arms, legs, trunk). This can be used to determine how specific diets and exercises are affecting body composition.
INJURY IDENTIFICATION – Identify and track inflammation, swelling and even joint injuries with ECW/TBW Analysis. Monitor these changes over time in the Body Composition History chart.
HOW TO PREPARE AND WHAT TO EXPECT FROM AN INBODY COMPOSITION TEST
To obtain accurate test results we recommend the following preparations for your appointment:
Do not eat or exercise before testing
Ideally, take the test in the morning
Use the bathroom prior to testing
Remove socks, stockings, and any items out of pockets. 
Re-test under similar conditions to enhance reproducibility when comparing tests. 
The Inbody Test is not available for individuals with medical implant devices such as pacemakers, or essential support devices such as patient monitoring systems. 
| | | |
| --- | --- | --- |
| InBody Composition Testing | Members | Non-members |
| Initial test with consult | $79 | $99 |
| Re-test (one-time) | $50 | $70 |
| Re-test (3-pack) | $130 | $170 |
We observe a 24-hour cancellation policy on all personal services. You can cancel your appointment online up to 24 hours in advance. Late cancellation fees are equal to the booked service.
MEET OUR FITNESS ASSESSMENT STAFF
Click a headshot to read a short professional bio…
To book your test, click the staff profile image above. 
---
BOD POD BODY COMPOSITION TEST
With the Bod Pod body composition test, you will learn the amounts of fat and lean tissue that make up your weight. You will get the "whole picture" of what's really going on with your body, and rationally plan your improvements.
Based on the same whole-body measurement principles as hydrostatic weighing, the BOD POD employs patented air displacement technology instead of a water dunk. Subjects sit comfortably inside the capsule while computerized pressure sensors determine the amount of air displaced by their body. This test is very accurate, safe, and quick, with a complete analysis taking under 10 minutes.
THIS FITNESS ASSESSMENT TEST IS AVAILABLE ONLY AT OUR DOWNTOWN LOCATION
Email conciergeDT@castlehillfitness.com or call 512-478-4567 dial 1
---
INITIAL ASSESSMENT

This is a 45-minute movement based assessment with a Castle Hill Fitness certified personal trainer. Our testing protocol takes you through seven different movements in varying planes of motion to give you a baseline for your body. Based on your goals and the results of your assessment our trainer can recommend classes and other services, and help guide you on the future steps in your health and wellness journey. You can retake the assessment over and over to see improvements over time.
THIS FITNESS ASSESSMENT TEST IS AVAILABLE ONLY AT OUR DOWNTOWN LOCATION
Email conciergeDT@castlehillfitness.com or call 512-478-4567 dial 1